Owner / Operator at Kägwerks. Garett served in the elite 2nd Ranger Battalion, 75th Ranger Regiment. He has a total of 14 deployments to both Iraq, and Afghanistan as an Army Ranger, PSD Operator, US. State Department Lead Firearms Instructor, and Shift leader for a Helo CSAR team. During his time as a lead State Department firearms instructor, he has trained thousands of US military and private contractors, as well as hundreds of foreign military and police. Over the last 3 years, he has trained US Special Operations Units, various SWAT teams and civilians. He served as vice president of a weapons design company, and is currently the President of a military solutions design company.
Buck has been a full time sworn Law Enforcement Officer for 12 years and been on SWAT for 10 of those years. He has held positions with City, State, and Federal Law Enforcement entities. Buck is currently assigned as the Explosive Breacher, Operator and Assistant Team Leader positions. Buck has been teaching Close Quarter Battle tactics for over 8 years and has been a Firearms Instructor for the last 5. Certifications include FBI Rifle, Pistol, Shotgun, Active Shooter as well as Explosive and Mechanical Breacher certifications from the FBI.
Mike is a Marine Corps Veteran that started his passion in firearms training when he became a Rifle and Pistol Marksmanship Instructor in 2006. After leaving the Military he began working in Law Enforcement with the Nevada DOC. In 2010 he became a State firearms instructor and shortly after took over as a Training Officer and Academy Commander for the state. Mike is currently a Sergeant and the Lead Firearms Instructor for his Department as well as an FBI Pistol, Rifle and Shotgun Instructor. Mike also developed the current Active Assailant Response Course where he instructs Officers in CQB and instructs Transportation Officers in Vehicle Ambush and High-risk inmate transport. Since working in Law Enforcement Mike has trained hundreds of civilians in Personal Defense and Laws pertaining to deadly force. He also is contracted with security firms in certification for Taser, Baton, handcuffing, OC, 40mm, and Defensive Tactics.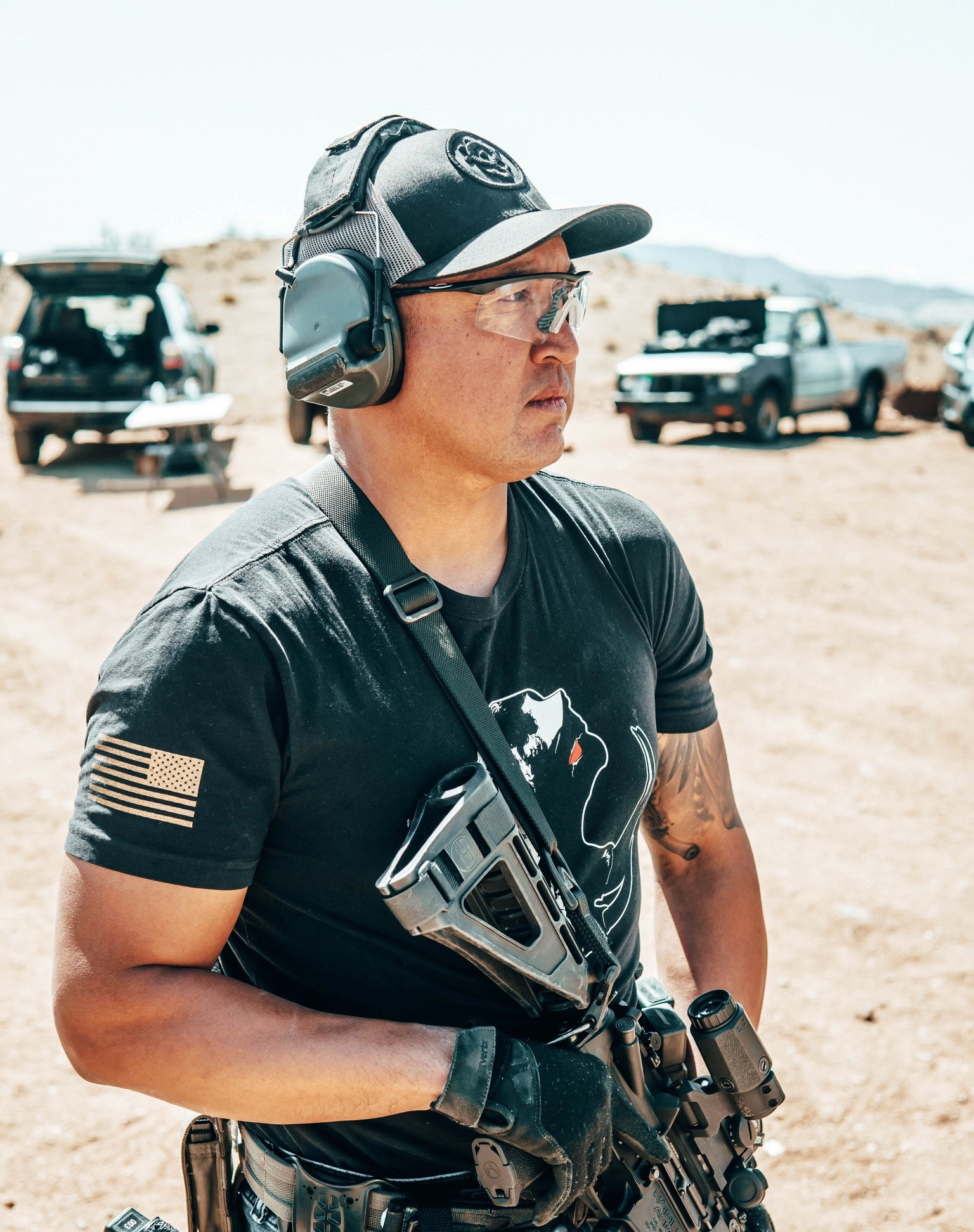 Ollie is a Marine Corps Veteran who started his interest in teaching when he was in the service. He has a background in Karate, Aikido, and Brazilian Jiu-Jitsu. After leaving the military, he taught 2 years of martial arts as an assistant instructor at a state college. Ollie has worked for both city and county law enforcement agencies for over 12 years. His background of Special Weapons & Tactics (SWAT), Patrol, and Field Training Officer has led him to his role as one of the lead firearms instructors for his agency. He holds FBI and POST instructor certifications for pistol, rifle, and shotgun. Ollie is also a certified armorer for AR15/M4/M16, Smith and Wesson, Remington 870/700, and Glock.
Nick served nearly eight years in the elite 2nd Ranger Battalion, 75th Ranger Regiment, with six of those years as a sniper. As a sniper section leader he graduated the US Army Sniper School and Special Operations Target Interdiction course with top honors. Nick has deployed 15 times to Iraq, Afghanistan and other hostile theaters with the 75th Ranger Regiment and as a Global Response Staff (GRS) Operator. He currently instructs in both the private and military sectors and advises on weapon development for a large firearms manufacturer. Additional certifications include NRA Rifle and Pistol Instructor, Armorer and EMT.
Vincent was born and raised in the San Fernando Valley of Los Angeles, California. Vargas enlisted in the US Army in 2003 and went on to serve 3 combat deployments with the 2nd Battalion of the elite 75th Ranger Regiment as an Infantryman. After 4 years of active duty service to his country, he joined the U.S. Army Reserves and continued his service by becoming a Drill Sergeant. In 2009 he became a Federal Agent with the Department of Homeland Security, Border Patrol and was a BORSTAR (Border Patrol, Search, Trauma and Rescue)Agent with S.O.G. (Special Operations Group) attached to BORTAC. During his time as a BORSTAR Agent, Vargas was instrumental in revamping the Tactical Medical Program and Selection process. Vargas has since resigned to chase other dreams and continues to teach TCCC around the country.
James has a diverse background that includes 8 years of service in the United States Marine Corps. Serving in a range of positions from Personnel Security Detachments to Intelligence Chief allowed him to interface with some of the best and brightest the United States Military has to offer. Following his enlisted service James spent time as a defense contractor in PSD and intel capacities until he broke away to specialize in athletics and rehabilitation. While simultaneously pursuing his doctorate in Chiropractic and a master's in Sports Medicine James founded Mayhem Syndicate (@mayhem_syndicate) to develop and manufacture hard and soft goods solutions for low visibility and concealed carry applications. Currently James owns and operates MS Athletics and Rehabilitation (@msathletics) in addition to Mayhem Syndicate and his instructor duties with Kagwerks. He's excited to bring a unique blend of clinical expertise, performance athletics, and firearms mastery to the distinguished Kägwerks cadre and clientele.
Don is a combat veteran of the United States Marine Corps, who served for four years as a radio operator attached to Alpha Company 1st BN 2nd Marine Division and loved every minute of it. As a radio operator he got to see the best of both worlds: working with communication systems as well as serving with an infantry platoon while in the middle east conducting combat operations. After leaving active duty Don wanted to serve his community, so he made a transition to law enforcement, where he is currently serving as a Federal Police officer in the Greater Pacific Northwest. He believes greatly in motivating others and being the person that allows kids to make it home safe to their parents. Don subscribes to the shooting method of mastering the fundamentals.
Brian served for 8 years as an active duty Infantry NCO in the United States Marine Corps. After being honorably discharged he served an additional 5 years as a defense contractor in support of DEA and USASOC counter narcotics/FID operations. Brian has completed several combat tours in both Iraq and Afghanistan. He possesses a distinguished history training SOF units as a low light subject matter expert. He also has had a notable fourteen year career as a product development consultant. He has executed work with some of the largest companies in the industry on training, media, and product development initiatives. He is currently pursuing an industrial design degree, and is the founder and chief designer of Orion Design Group LLC. (@odgusa).
Tyler is a USMC Veteran with two deployments to the Middle East. During his deployments as Radio Chief, Tyler conducted numerous fire missions in support of ground troops. Tyler is currently a Local Police Officer graduating as Top Shot of his Academy. Tyler is assigned to the proactive downtown enforcement team. Tyler is also a Swat Operator within his department. Tyler is dedicated to constantly evolving training for himself and his students and ensures that students get the individual attention needed for growth while ensuring students train in a safe environment.